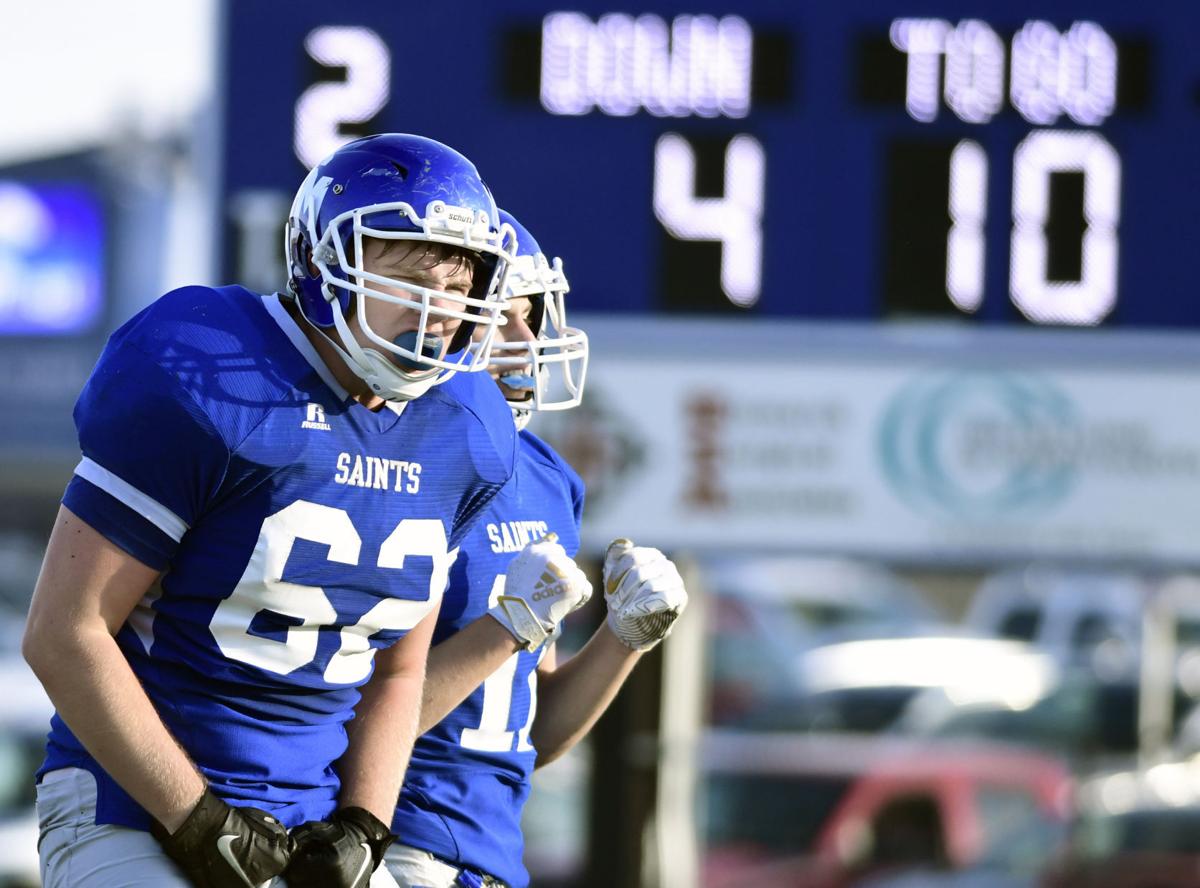 St. Mary's defense stiffened when it absolutely had to.
Zach Haas delivered the game-clinching sack late in the fourth quarter for the Saints in their 20-15 Class AA semifinal win over Kindred on Saturday at Smrekar Field.
Kindred's high-powered offense drove to the St. Mary's 18-yard line looking for the go-ahead score, but Haas sacked Vikings quarterback Max McQuillan on fourth down to seal the win with 75 seconds left in the game.
A two-way starter on the line for St. Mary's, Haas rarely leaves the field but had enough left in the tank for the decisive snap.
"Well, you're just thinking if we lose, it's over," the 6-foot-4, 245-pound Haas said. "We just had to come up with one more stop, whatever it took. It's the best feeling in world. I'll probably remember it the rest of my life."
St. Mary's will face Beulah in the Dakota Bowl on Friday at the Fargodome. Kickoff is scheduled for 3:30 p.m. The Saints (10-0) defeated the Miners (8-2) 21-13 on Oct. 2. It was their closest game of the season until Saturday.
"We won, we survived. We were able to beat a very good team today, and we'll face another very good team on Friday," St. Mary's coach Dan Smrekar said. "Kindred played their hearts out. We needed our defense to make one last stop and they did."
Kindred lost four fumbles in the game, one leading to a St. Mary's touchdown. The Vikings also roughed St. Mary's kicker Nick Schumacher on a first-quarter field goal. The kick was good, but the penalty gave the Saints a first-and-goal from the 3-yard line. Cullen Curl scored on the next play.
St. Mary's led 20-0 at halftime, but the Saints were held scoreless the final two quarters. McQuillan rallied Kindred. The Vikings' junior quarterback threw for 270 yards, including touchdown passes of 9 yards to Caleb Klabunde in the third quarter and 7 yards to Charlie Biewer in the fourth quarter to cut the deficit to 20-15.
"Super proud of how we played today. We made a lot of mistakes in the first half, but our kids really responded in the second half," Kindred coach Matt Crane said. "It was fun to see our kids go toe-to-toe against a great team like St. Mary's. It was a great game to be a part of. We just came up a play short. I've never been more proud of a group of kids."
St. Mary's seemed poised for another blowout win. Senior quarterback Jackson Uhler had a rushing touchdown and another through the air in the final 4 minutes of the first half. Thomas Jackson scored on a 7-yard scoring strike from Uhler just 28 seconds before halftime to make it 20-0. Uhler finished with 212 yards passing on just 10 completions. He also had an interception defensively. Brit Senftner had six catches for 96 yards for the Saints.
"Offensively in the first half we did some good things. I thought we threw the ball really well," Smrekar said. "In the second half, we just couldn't finish anything. We'd get good field position, then we'd go backwards.
"We couldn't run the ball like we have all season. Give Kindred credit. We couldn't get anything going in the second half."
St. Mary's was held to 93 yards rushing, more than 150 under their average, on 36 carries.
"Our defense played great," Crane said. "To hold them without a point for a full half, that's really, really impressive."
After cutting the deficit to 20-15, Kindred's defense forced the Saints to punt for the eighth time in the game, setting up the final possession.
McQuillan drove Kindred quickly inside the St. Mary's 20 yard line. But three incompletions set up fourth down before Haas delivered.
"We knew Kindred was going to come in and play hard. We expected a close game, but maybe not that close," Haas said. "Give credit to them. They have a lot of great players. They're tough to stop, but we got the last one when we really needed it."
McQuillan threw 37 times, completing 18 of them. Six went to 6-4 senior tight end Ethan McKenney for 112 yards. McKenney is a UND commit.
"They caused us all kinds of trouble with the passing game, which we knew they would but yet our defense kept a very good team to 15 points," Smrekar said. "It's the semis. Kindred played really hard. Boy, they're tough, but no matter how we did it, we won and we're going to the Dakota Bowl and we're awfully proud of our kids."